Period: 1066-1102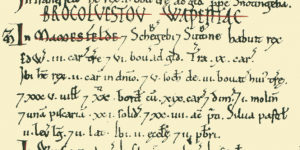 Mansfield according to the Domesday Book: Households: 35 villagers. 5 freemen. 20 smallholders. 2 priests. Ploughland: 9 ploughlands. 2 lord's plough teams. 19.5 men's plough teams. Other resources: Meadow 24 acres. Woodland 2 * 2 leagues. 1 mill. 1 fishery. 2 churches.
Clipstone according to the Domesday Book: Households: 12 villagers. 3 smallholders. Ploughland: 2 ploughlands. 1.5 lord's plough teams. 3.5 men's plough teams. Other resources: Woodland 1 * 1 leagues. 1 mill, value 3 shillings. Annual value to lord: 2 pounds in 1086; 3 pounds in 1066.
The earliest written records we have about Spa Ponds aren't about the site in particular, but about the ownership of the manors of Mansfield and Clipstone. The Spa Ponds site would have been in one of these two manors (or part of it might have been in one, and part in the other).
Harold II became king of England in 1066, having succeeded his brother-in-law King Edward ('the Confessor') who had died without an heir. Later that year, William Duke of Normandy invaded and defeated Harold II at the Battle of Hastings. This made Harold II the last crowned Anglo Saxon king of England and transformed William into the first Norman king of England, William I (William the Conqueror). William kept some of the land as Crown land and redistributed land, power and wealth to Normans.
The Domesday book records the Manor of Mansfield as belonging to King William by 1086, but having previously been owned by King Edward in 1066 which made it a 'crown manor' or 'royal manor'. Edward owned Mansfield during his reign, i.e. between 1042 and 1066.
Roger of Bully (Roger de Busli) was one of the Norman Knights that invaded England and he gained many manors/estates received as a reward, including the manor of Clipstone. Clipstone was listed as a settlement in the Domesday Book, in the hundred of Bassetlaw and the county of Nottingham(shire). Some authorities indicate that one of the reasons Roger was given so much land was at least in part due to his wife Muriel being in favour with Matilda of Flanders, the wife of King William.
The Domesday Book states that in 1066 the Saxon lords of Clipstone were Osbern and Wulfsi (from Ulfsig which means 'victory-wolf'), but that by 1086 the lord and tenant-in-chief was Roger of Bully. Roger's son passed away in 1102 without heirs and as a result the lordship of Clipstone appears to have reverted to the Crown, meaning that Clipstone entered royal ownership under Henry I.
---
Next: The King's creation of Clipstone Park (1176-1180)
Previous: Origin of the springs at Spa Ponds (Pre-history)
---
Sources and further reading: