Forest Town Nature Conservation Group (FTNCG)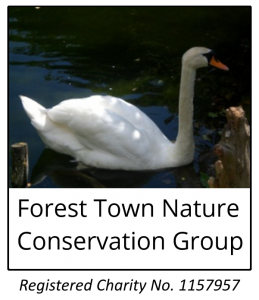 The Forest Town Nature Conservation Group (FTNCG) works to improve nature conservation sites within and around Forest Town, including Spa Ponds and the Rushpool Open Space. Our charitable object is to "promote for the benefit of the public the conservation, protection and improvement of the physical and natural environment in and around Forest Town". The Trustees of the charity are: Shlomo Dowen (Chair), Richard Smith (Vice Chair), Lorraine Dowen (Secretary), Josh Dowen (Treasurer), Alan Alberry, James Healy, John Gibson, Mark Fretwell and Phil Goodall.
The Great British Spring Clean (POSTPONED)
FTNCG were hoping to run a session at Saa Ponds and a session at Rushpool as part of the Great British Spring Clean on Saturday 3rd March 2018, but due to the weather this has been postponed until the weather improves. We'll let you know when we have a new date!
Upcoming FTNCG Meetings and Events
Forest Town Nature Conservation Group meetings and events are open to the public and are scheduled for the following dates:
FTNCG Management Meeting on Friday 2nd March 2018 from 10am – 2pm – THE VENUE HAS CHANGED SO PLEASE CONTACT SHLOMO IF YOU ARE INTERESTED IN ATTENDING
FTNCG Annual General Meeting (AGM) and Spa Ponds Fungi Talk will be held at the Flint Avenue Community Centre on Saturday 28th April 2018, from 10am. The business of the AGM will be followed by a talk from Ann Ward about the various types of fungi found at Spa Ponds (to be confirmed).
All are welcome to tea, biscuits and to join the discussions, which will include a consideration of the recommendations in our Heritage Management Plan – Map to Flint Avenue available via: http://www.foresttown.net/heritageproject/Flint_Avenue_Community_Centre_Map.pdf
For minutes of previous Committee meetings, see the FTNCG Minutes Archive.
UPCOMING FTNCG WORK DAYS
FTNCG carry out volunteer work on wildlife sites. If you wish to join us then please contact us in advance via spa.ponds@gmail.com
There will be something for everybody to do to help improve nature conservation at Spa Ponds (weather permitting), including dead hedging, de-silting, thinning and pruning trees
Spa Ponds – Workdays (see Spa Ponds Facebook page):
The Great British Spring Clean has been postponed (see above)
Saturday 24th March 2018 from 10am – 1pm
Work is also currently being carried out on an ad-hoc basis – let us know if you want to get involved.
Rushpool Open Space – Workdays (see Rushpool Open Space Facebook page):
The Great British Spring Clean has been postponed (see above)
FTNCG News
The Forest Town Nature Conservation Group (FTNCG) has been successful in attracting Heritage Lottery Fund money to help pay for the Spa Ponds Heritage Project.
Read More »
FTNCG Mugs and Cards will be for sale at Forest Town Village Market, Kingsway Hall, Saturdays 20th August & 17th September from 10am to 2pm.
Read More »
I write, in accordance with our constitution, to formally notify you of FTNCG's 2016 Annual General Meeting (AGM), which will take place on Wednesday 4th May 2016.
Read More »
« Newer Entries
Older Entries »
Spa Ponds Nature Reserve
Local Wildlife Site purchased for the community by FTNCG in May 2014 and maintained by FTNCG volunteers
Free to access and open to the public (walkers, cyclists and horse riders)
Main entrance off Clipstone Drive, opposite White Gates Pub, Forest Town
Medieval ponds with links to the historic Clipstone Park and to King John's Palace in Kings Clipstone
Wildlife includes birds, toads, damselflies and dragonflies
Walking around Spa Ponds:
Donating to FTNCG

Donations to the Forest Town Nature Conservation Group can be made by any of the following means:
Volunteering Opportunities
FTNCG Members and Supporters are asked to help by:
Liking our Facebook page and posting photos of Forest Town wildlife to it
Becoming a member and coming to our meetings, events and work days (see above)
Making or growing products to share and sell
Recording and monitoring species (see forms below)
Helping research and document the heritage of Spa Ponds and Clipstone Park
Spreading the word about Conservation and Heritage activities in Forest Town, and helping us promote the work of the Forest Town Nature Conservation Group
FTNCG Forms and documents
Click here for third-party websites and documents of interest to FTNCG members and supporters (including a list of FTNCG affiliations)
---
Gallery
Photo Galleries:
Also visit the Stintings Lane page for some lovely photographs of this ancient track way in Forest Town.

---
Facebook
FTNCG Contact Details