Project overview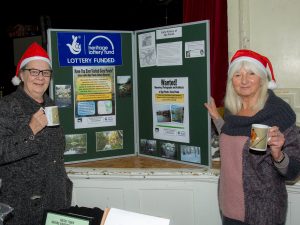 Spa Ponds Nature Reserve is owned and managed by the Forest Town Nature Conservation Group (FTNCG), and is open to the public at all times.
This year-long project focusing on the heritage of Spa Ponds (also known as 'Gara Ponds') is taking place 700 years after the creation of the medieval fish ponds.
The Heritage Management Plan produced as part of this project will guide FTNCG's management Spa Ponds, complementing our existing Ecology Management Plan.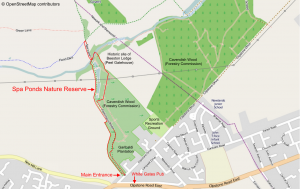 The project will provide participants with training and guidance from historians and community archaeologists, including MBArchaeology.
To better appreciate Spa Ponds' heritage value, participants will develop an understanding of the basics of archaeological and historical research and landscape fieldwork, and will explore written records in archives, libraries and museums.
We will also gather memories, photographs and artefacts of the site, including through the project's Oral Histories element.
The Forest Town Nature Conservation Group received a Heritage Lottery Fund Sharing Heritage grant of £8,500 to help us pay for this project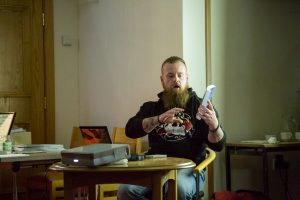 Experts will provide mentoring support and deliver about a dozen workshops and training sessions in 2017 covering:
Trees and Natural Heritage (May/June)
Landscape Surveying (June)
Day School exploring the Mediaeval Landscape of Sherwood (7 July)
How to Present Findings (September)
Click here for a more detailed description of project
Click here for more details about the training opportunities
News and updates
« Newer Entries
Show all news for the Spa Ponds Heritage Project
WORKSHOPs IN June and July 2017
Friday 2nd June 2017 (11:30 – 2:30pm) – Introduction to archaeological fieldwork workshop, with Matt Beresford of MBArchaeology at Flint Avenue Community Centre
Saturday 10th June 2017 (10am – 4pm) – Tree training with Mark Fretwell at Spa Ponds (meet at Clipstone Drive entrance).
Saturday 17th June 2017 (10am – 3pm) – Workshop with geologist Stephen Walker at Flint Avenue Community Centre. Open to all.
Friday 7th July 2017 (10am – 3pm) – 'Kings, Knights and Knaves of Clipstone – A Day School Exploring The Mediaeval Landscape of Sherwood' at Flint Avenue Community Centre with author and archaeologist James Wright. Open to all.

The day school will cover the definition of a castle, elite landscapes, medieval hunting (with reference to Sir Gawain and the Green Knight), as well as a lecture looking at the theme of revolt against authority in the 14th and 17th centuries at Clipstone (in 'Royalty, Rebellion and Revolution in Sherwood Forest').
See diary dates for the whole project
Get involved / contact us